Norton telah menyediakan versi Antivirus beta gratis yang akan datang dan Internet Security 2012.
Norton AntiVirus 2012 menyediakan perlindungan virus yang kuat dan perlindungan spyware sehingga Anda dapat menggunakan komputer Anda dengan bebas, tanpa gangguan. Di sisi lain, Norton Internet Security 2012 menyediakan perlindungan virus yang kuat bersama dengan perlindungan online.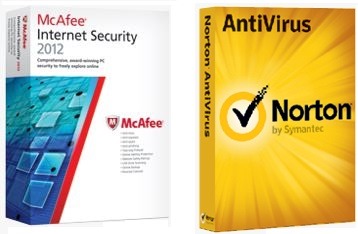 Upgrade terbaru dari Norton Antivirus dan Internet Security menawarkan:
Fastest performance ever
Industry-leading protection
Easier to use Control Center and features
Fitur utama:
Norton Protection System includes 4 layers of rock-solid protection designed to proactively protect against the very latest threats, so you can do more on your PC without disruptions.
Customizable Control Center gives you the option to choose your preference between a simplified screen or the traditional detailed view.
Bandwidth Management limits Norton processes and updates when you have limited bandwidth or monthly downloads.
Download Insight 2.0 now tells you how stable a download is before you put your computer at risk for crashes or other bad things to happen.
Norton Recovery Tools help remove threats that can be deeply buried in a PC operating system.
Norton antivirus 2012 dan Norton Internet Security 2012 dapat di install pada Windows XP, Windows Vista, dan Windows 7.
Anda harus mendaftar menggunakan link berikut untuk mendapatkan Norton antivirus 2012 dan Norton Internet Security 2012 secara gratis:
Download Norton Antivirus 2012 Beta Gratis
http://us.norton.com/beta/register.jsp?pvid=nav2012beta
Download Norton Internet Security 2012 Beta Gratis